Favourites Prevail in Industry Day Battles
Centre Wellington, ON – It was a picture perfect afternoon for the 31st annual Industry Day at Grand River Raceway. The 11-race card offered over $720,000 in purses and the dashes for the cash certainly did not disappoint the fantastic crowd on hand.
24th Annual Battle Of Waterloo
A stellar field of 9 Ontario Sired 2-year-old colts and geldings lined up behind the gate to battle for the lion's share of over $250,000.
Betterhavemymoney lived up to his heavy favourite status by capturing 2021 Battle Of Waterloo and setting a new track record for gelded 2 year old pacers at 154.2. Driver James MacDonald put the 2 year old Betterthancheddar colt into play early, but faced a determined Erinwood Yves on the lead. The pair dropped the gloves to a 26.2 opening quarter before driver Jody Jamieson relinquished the lead to Betterhavemymoney. MacDonald grabbed a much needed middle half breather through fractions of 54.4 and 1:24.0, as he readied for a slugfest to wire with pocket sitter Erinwood Yves. Erinwood Yves popped the pocket and challenged the undefeated leader, but was unable to catch Betterhavemymoney in an incredible mile time of 1:52.4. Century Inspector took third while Stews Watching finished fourth.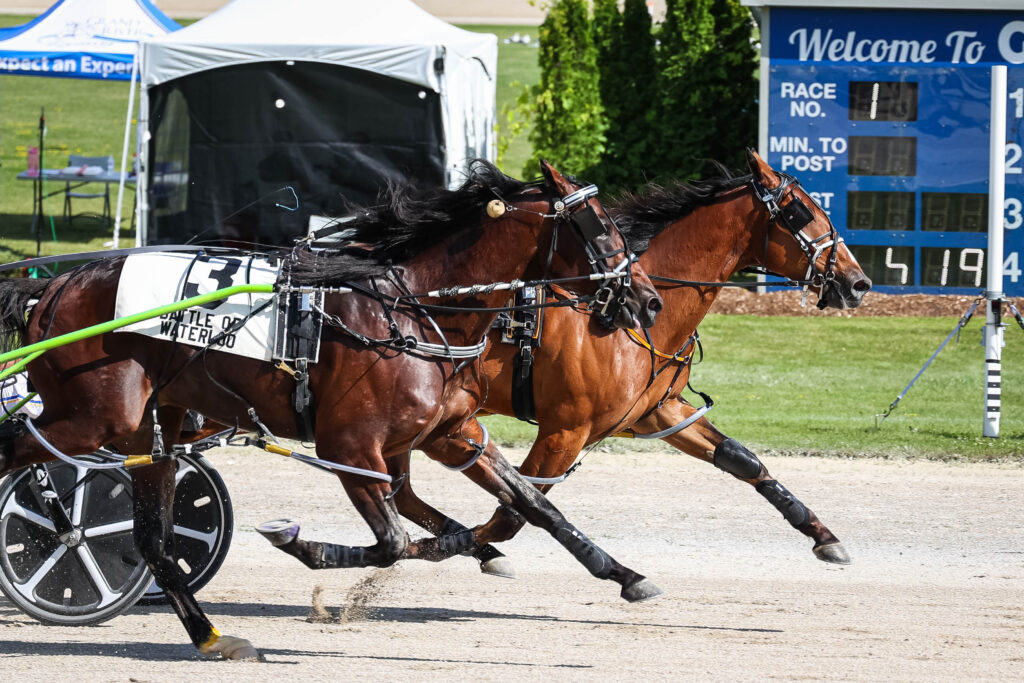 Betterhavemymoney wins 2021 Battle of Waterloo- Tiffany Chantal Photography
"There's no layups in this business. I knew I had the heavy favourite, but I thought if Jody [Jamieson and Erinwood Yves] got off the gate well he would be more than content to follow me, but he was going to make sure he made me pay the price," MacDonald said after the race. "Kudos to Gabby [Sasso] – she's got a good barn of horses and that horse raced terrific. I think the world of my horse, and he got stretched hard and I had to push him, and he was right there at the wire.
"I mean it's huge – any time you get a crack at some of these signature events, you've got to take advantage of them," MacDonald also said. "Nick [Gallucci] did a great job. He had the horse ready, and the horse just did it all. I'm really happy for everyone involved, and I'm happy to see a good crowd here today at Grand River. It's really awesome."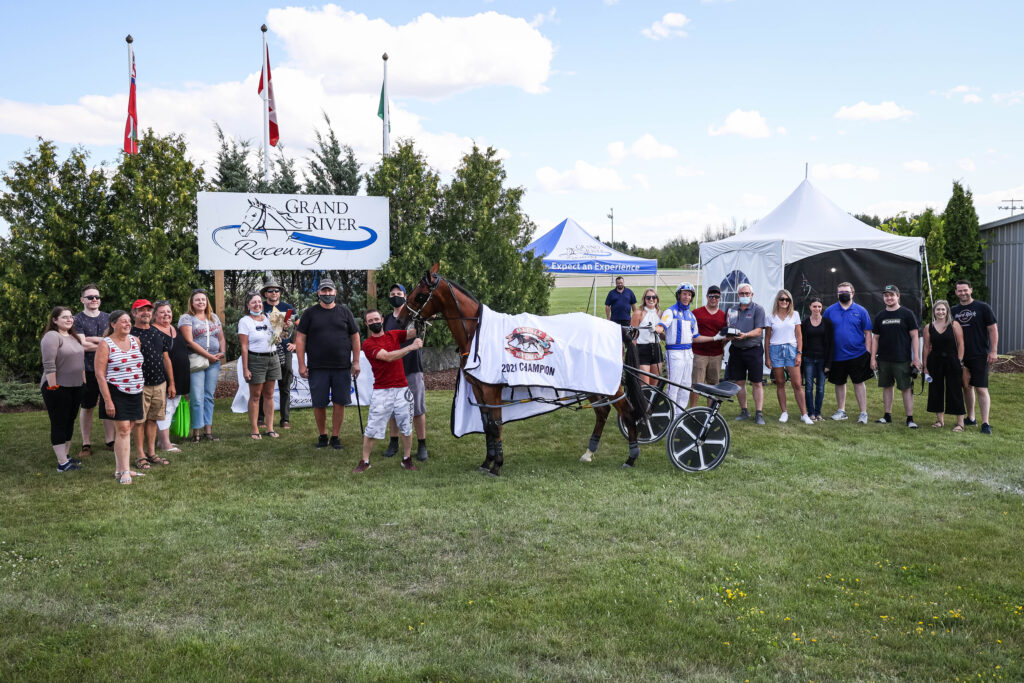 Betterhavemymoney is now 4 for 4 lifetime and has surpassed $235,000 in earnings for trainer Nick Gallucci and owners/breeder Millar Farms. -Tiffany Chantal Photographay
13th Annual Battle Of The Belles
Ontario sired 2-year-old fillies showcased their tremendous talent in the 2021 edition of the Battle Of The Belles.
Big Bettor Hanover took the early lead  from post position  2 with Warrawee Xpat and Cheryls Shadow also leaving for position into the backstretch. After early action settled, Louis-Philippe Roy rightlined Love That Smile into a :27.3 first quarter and took over command near 3/8s of a mile. Roy marched Love That Smile to a :57.3 half. The outside flow lost ground on the pacesetter as Roy accelerated Love That Smile up the backstretch, reaching three quarters in 1:26. Love That Smile said catch me if you can around the final turn and kept rolling through the lane to win over a late-charging Big Bettor Hanover, with Warrawee Xpat finishing third and Cheryls Shadow taking fourth.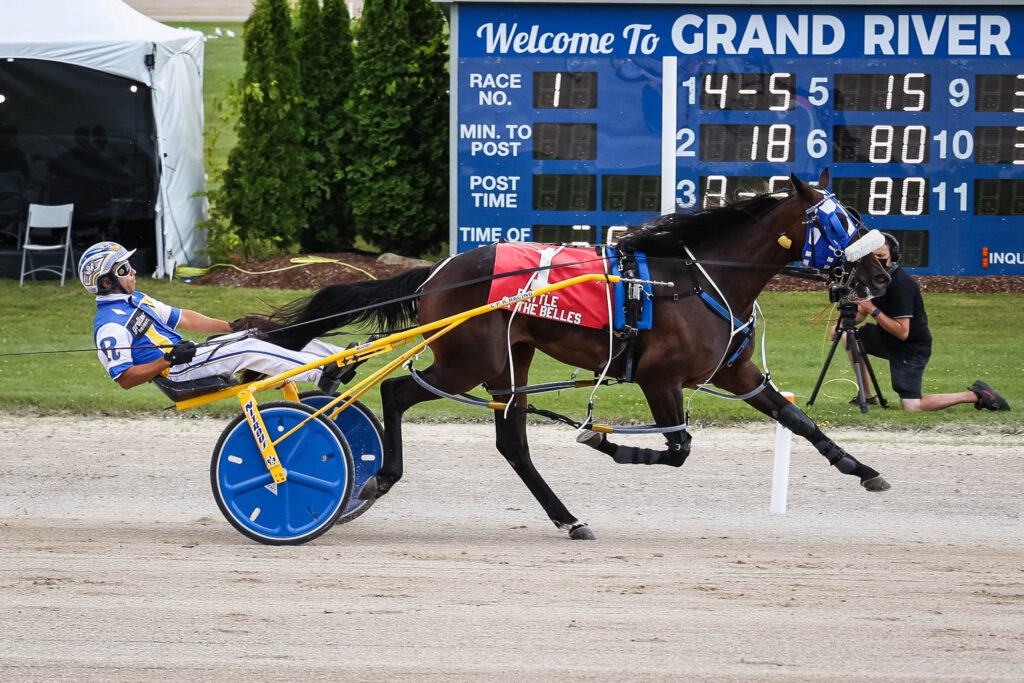 Love that Smile, Winner of the 2021 Battle of the Belles- Tiffany Chantal Photography
"I don't think she has the gate speed yet," Roy said after the race on his decision to take back with Love That Smile. "Maybe she'll develop that asset, so just making the front off the gate wasn't an option. So then the other option was to make sure I wasn't going to get in trouble. I didn't really ask her. I just let her float; do her thing. I was just making sure nobody was going to come surprise her, but definitely she was feeling good. All the credit to Bourassa's team there."
"It's really exciting – I've raced here for a few years," Roy also said on winning the co-featured event on Industry Day. "I've seen either Jody [Jamieson] or Doug [McNair] winning these races often. I started racing on a half mile like a lot of guys… it's a different type of racing and it's exciting to be successful at it."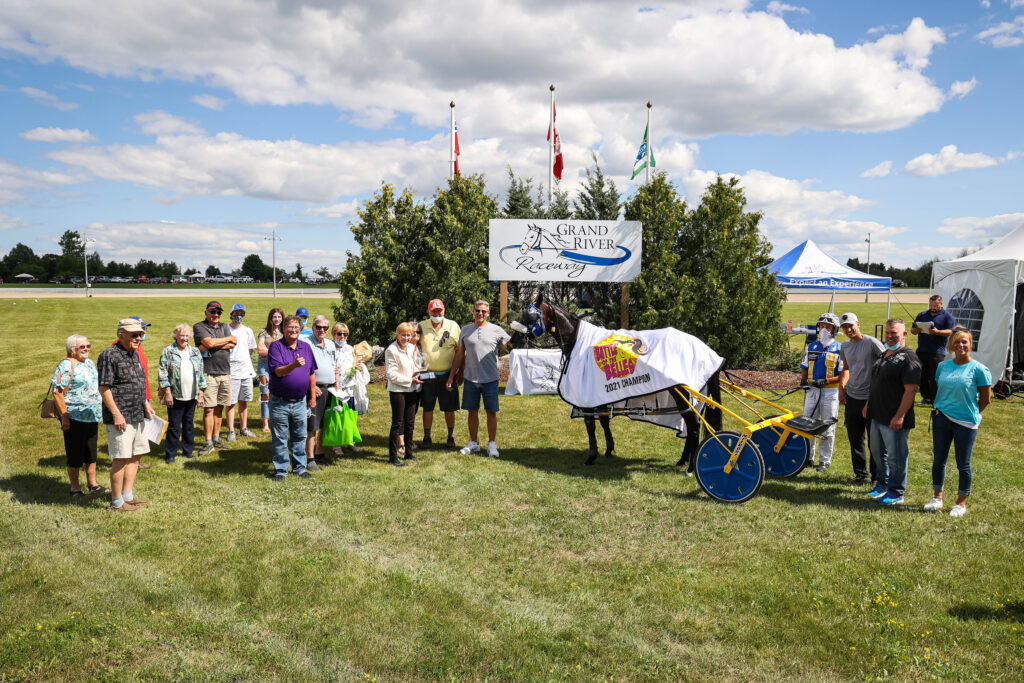 The 2 year old Sportswriter filly has now won 3 of 5 starts lifetime and has banked just under $100,000. – Tiffany Chantal Photography
OSS Undercard
Three-year-old pacing fillies in the Ontario Sires Stakes (OSS) underpinned the card with two Gold Series divisions and five fields of Grassroots contenders. For full Ontario Sires Stakes action recap visit: https://oss.ontarioracing.com/voelz-delight-equals-track-record-on-industry-day/
A great crowd was on hand for the 31st annual Industry Day and fans were happy to be back on track for the raceway's signature day.
Total handle for this year's 11-race Industry Day was $371,125, with over $38,000 wagered on track.