Battle Eliminations Completed, Fields Set for Final
Ontario-sired two year olds put a tremendous showcase of speed in Monday's (July 26th) eliminations for Grand River Raceway signature events, The Battle Of Waterloo and Battle of The Belles.
Battle Of The Belles
Love That Smile, a 2 year old daughter of Sportswriter, returned to her maiden breaking track to dominate the first Battle of Belles. This 1:54.2 score, not only shaved over 6 seconds off her lifetime best, it also tied the Grand River Raceway track record for 2 year old filly pacers.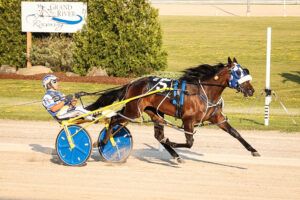 Love That Smile: Tiffany Chantel Photography
Driver Louis-Philippe Roy committed to a first up move just before the half and moved alongside race leader Cheryls Shadow and the battle raged on down the backstretch before Love That Smile was able to clear around the final turn, before stepping away from the field in track record tying fashion. Rounding out the top 4 was Cheryls Shadow (2nd), Marykeeponburnin (3rd) and Rhone Hanover (4th), all advancing to next week's final.
The Sportswriter Filly is trained by Rene Bourassa and will benefit from post position one in the rich final.
Replay: https://www.youtube.com/watch?v=ymm2NXwHLWw
In the second and final elimination, half-mile hardball was the game plan on driver Jody Jamieson's mind as he left off the gate with Warrawee Xpat, reaching the quarter in 27.4.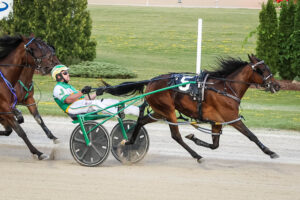 Warrawee Xpat; Tiffany Chantel Photography
Warrawee Xpat kept challengers at bay through middle splits of 58.1 and 1:27.2, before kicking home in 28.2 for a mile time of 1:55.4. Riding the pocket trip to a second place finish and a spot in next week's final was Speak Your Mind, followed by Big Bettor Hanover and Dewitt For Josie respectively.
This elimination win lands Warrawee Xpat post position three for the 2021 Battle Of The Belles Final and driver Jody Jamieson will look to add to his Industry day trophy case.
Replay: https://www.youtube.com/watch?v=WrH0V9nWJso
The $145,060 Battle Of The Belles Final field is as follows:
Love that Smile
Big Bettor Hanover
Warrawee Xpat
Speak Your Mind
Cheryls Shadow
Stonebridge Thalia
Dewitt For Josie
Rhone Hanover
Marykeeponburnin
AE  Darby Ogill
Battle Of Waterloo
Erinwood Yves delivered as post time favourite for driver Jody Jamieson and Gabriella Sasso to secure his spot in the $251k Battle Of Waterloo Final on Industry Day.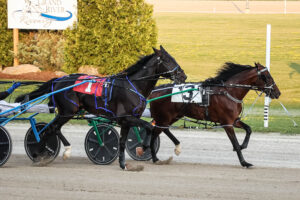 Erinwood Yves, takes century Inspector; Tiffany Chantel Photography
The State Treasurer colt floated out off the gate before settling into the pocket trip behind Century Inspector. Driver Jody Jamieson remained patient through fractions of 27.4, 57.1, 1:26.3 before finding the passing lane and utilized a last quarter kick of 28.1 to reach up in the final strides to win by a head in 1:55.1. Finishing a close second was Century Inspector followed by Ron, Sports Box and Nassau Hanover.
Erinwood Yves will enjoy post position three in the final, but fellow elimination competitor Century Inspector will line up in post position 1.
Replay: https://www.youtube.com/watch?v=M5FfcNqFxRI
The second and final elimination was captured by Betterthancheddar gelding, Betterhavemymoney, who has yet to taste defeat in his young career.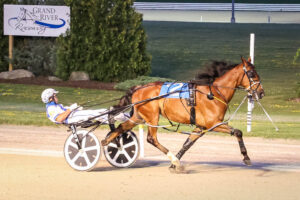 Betterhavemymoney; Tiffany Chantel Photography
The Nick Gallucci trainee found the lead off the gate before releasing Twin B Raptor for a give and go move. After a second quarter breather, driver James MacDonald rolled Betterhavemymoney to three quarters in 1:26.1 before kicking home in 28.1 to win by 4 expanding lengths in a mile time of 1:54.2.
The undefeated gelding will look to extend his streak into next week's rich final from post position five.
The $251,050 Battle Of Waterloo Final field is as follows:
Century Inspector
Sports Box
Erinwood Yves
Stone Carver
Betterhavemymoney
Ron
Stews Watching
Nassau Hanover
Twin B Raptor
AE Dreamfair Arnie B
Industry Day Back At The Track
Industry Day is held annually at Grand River Raceway in celebration of the harness racing industry. The event takes place on the holiday Monday in August each year and boasts an incredible line up of racing action, including the $251,050 Battle of Waterloo and $145,060 Battle of the Belles. With a post time of 12:30 p.m. (EDT), guests can expect an afternoon packed with racing entertainment.
For more information about the events of the day visit