Grand River Raceway made it to the 2022 List of Best Workplaces™ in Retail & Hospitality!
Grand River Raceway is proud to announce they have been named on the 2022 list of Best Workplaces in Retail & Hospitality!
First awarded in 2019 as a Great Place to Work, and then later recognized on the 2020 and 2021 list of Best Workplaces™ in Retail and Hospitality, the organization is thrilled that they continued to receive incredibly positive feedback about employment at Grand River Raceway and The GrandWay Events Centre which is owned and operated by Grand River Agricultural Society (GRAS). This award comes after all the changes that COVID brought with staffing changes. The raceway is back open at full capacity since June 3.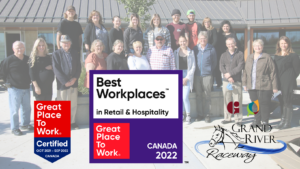 Grand River Raceway received this honour after a thorough and independent analysis conducted by Great Place to Work®.  The list is based on direct feedback from employees of the hundreds of organizations that were surveyed by Great Place to Work®. The data has a 90% confidence and a plus or minus 5% margin of error.
To be eligible for this list, organizations must be Great Place to Work- Certified™ in the past year, and work primarily in the Retail or Hospitality Industry.
"We are grateful to be recognized by our team as a Great Place to Work and to continue to be a part of an impressive list of best workplaces in retail and hospitality," shares Rena Edmondson, HR Manager, Grand River Raceway. "We endeavour to listen, engage, motivate, and reward our team. Building camaraderie and a caring workplace culture is part of our commitment.  We are thankful for an amazing and enthusiastic team that is devoted to the success of the organization."
"Grand River Raceway has a deep commitment to its employees, guests and the community," says Katie Giddy, Vice President, Operations, Grand River Agricultural Society. "Our team has built strong relationships within the community and with our guests. We are incredibly proud of our great team and humbled by their continued commitment and dedication."
In addition to the seasonal horse racing and year-round gaming, dining, and entertainment, the GRAS family The GrandWay Events Centre is now fully open! The GrandWay provides an elegant and modern space for traditional and pop-up weddings, parties, special events, and corporate meeting spaces.
Find out more about the Grand River Agricultural Society Companies at;