Musical Murder Mystery Dinner Theatre celebrates 100th show and Platinum Award
Grand River Raceway's Musical Murder Mystery Dinner Theatre celebrates 100th show and earns Platinum Award
ELORA, ON — Grand River Raceway's Musical Murder Mystery Dinner Theatre was recently awarded a Platinum Waterloo Region Record Readers Choice Award for Best Dinner Theatre category.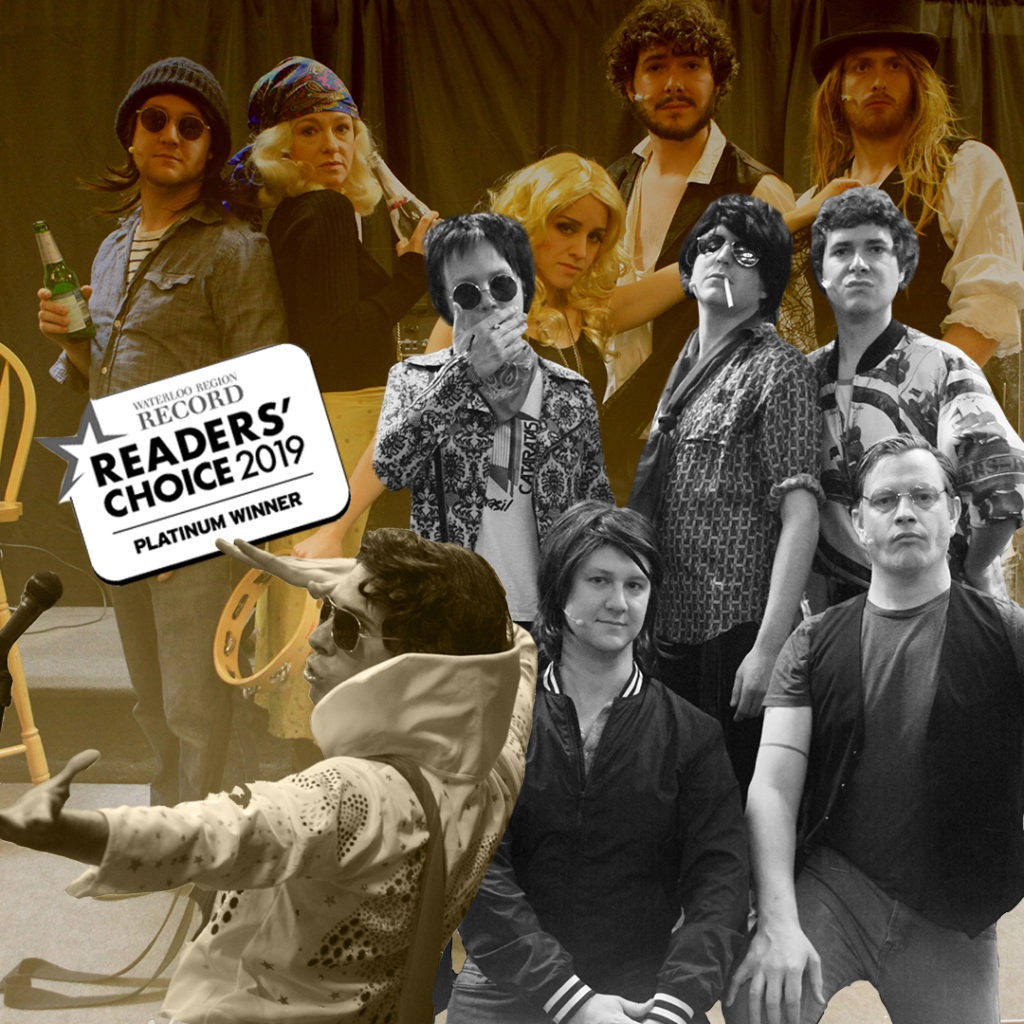 The Readers Choice Awards are decided by the community – The Record hosts an online nomination site where local residents can nominate their favourite businesses and/or professionals from the community to be recognized. In honour of the award, Grand River Raceway received a congratulatory certificate from Waterloo, ON Member of Parliament The Honourable Bardish Chagger.
This recognition was
awarded just weeks before the Musical Murder Mystery Dinner Theatre's 100th anniversary show.
Since its inception almost six years ago, more than 10,000 guests have delighted in a night of comedy and live music in 23 all-original whodunit productions. The scripts are written exclusively for Grand River Raceway, offering fictionalized accounts of real-life squabbles between beloved artists such as the Rolling Stones, the Beatles, Fleetwood Mac and the Beach Boys, to name a few.
The 100th show falls on opening night of Let it Bleed: A Rolling Stones Murder Mystery. The show runs March 27, March 28 (sold out), April 3 and April 4 (sold out).
The music is live and the shows are scripted with lovingly researched details and nuances. Writer/director Tim Clarke spends hours researching the real-life rollercoaster dynamics of the characters. He expertly weaves a comedic show that both celebrates and giggles at the eccentricities of our most beloved showbiz characters.
The audience experience is just as original as the Musical Murder Mystery Dinner Theatre format itself. Fun, interactive contests mark the start and end of the evening. The characters visit each table to plead their innocence in the ghastly crime as guests vote by secret ballot (in an effort to win a prize).
Tickets and details for the Let It Bleed: A rolling Stones Murder Mystery show are available here.
About Grand River Raceway
Grand River Raceway offers seasonal horse racing and year-round gaming, dining, entertainment and Meetings & Events Services. Grand River Raceway is owned and operated by The Grand River Agricultural Society (GRAS).
-30-
For further information, contact:
Jacqueline Lapointe
Events & Experiences Coordinator
(519) 846-5455 x288 bookings@grandriverraceway.com