OSS News: Roy with Driving Double in OSS Gold Action at Flamboro Downs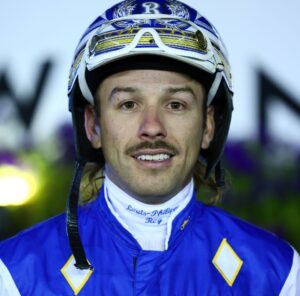 Image: Louis-Phillipe Roy (New Image Media)
Louis-Philippe Roy scored a driving double tonight as the province's top freshman trotters clashed in four $100,000-plus Ontario Sires Stakes Gold divisions at Flamboro Downs.
The nine race card featured two divisions for colts and geldings, and two divisions for fillies. Roy swept the male half of the OSS quartet.
Race five opened the OSS action and Dws Point Man established a new lifetime mark of 1:57.0 to extend his winning streak to four races.
Under Roy's handling the My MVP gelding took advantage of inside position by going to the front from post two, cutting the first quarter in 28.3, and establishing a lead he wouldn't relinquish.
"He's a really handy little trotter that does everything right," said Roy. "I was expecting him to be really good here tonight. He already raced on a half-mile in Saratoga and was going around there good. I expected him to win or race good tonight, and he did just that."
The Richard Moreau trainee now has two Gold wins from two starts north of the 49th parallel, after earning a pair of conditioned wins at Saratoga earlier this season. He crossed the $100,000 barrier in earnings with the win tonight for owners Ecurie Csl, and 9174 7998 Quebec Inc (Sorel-Tracy, QC).
Dws Point Man paid $4.80 for the win.
Roy's second win of the night came with Dowedealinandwhy in the seventh race, after going off at 12-1, the longest odds in the field.
Drawing post five meant Roy was content to sit behind the early leaders, settling into fifth in the six-horse field through a half-mile trotted in 28.1 and 58.1.
When James MacDonald moved odds-on favourite Hasty Bid up on cover from fourth Roy went with him. Dowedealinandwhy moved three wide around the far turn, and powered down the lane, stopping the clock in 1:58.2 for the win.
"He felt really good," said Roy. "James was gaining ground, so I was waiting and waiting. There was not a point in the mile where he didn't feel good. In the last turn I kind of knew I was going to be a winner. When I tipped him, I didn't even ask him, just let him trot and he was good."
It was Roy's first time driving the Rob Fellows trainee who now has two wins and a runner-up in four Gold starts this season, good for $127,571 in total earnings. Yolanda Fellows (Rookwood, ON) and Irene Carey (Belgrave, ON) own the Wheelin N Dealin gelding.
In the female half of the OSS card, Mass Hysteria won her second straight Gold start in race six, and accomplished it in the same fashion as her first by leading gate to wire.
"She was always good on the front training down," said trainer Kyle Bossence. "I'm not one to tell the driver what to do, no matter what kind of race it is, I leave it up to them. So, I was hoping in the last Gold at Mohawk that Trevor would put her on the front, and he did, and on a half-mile it's even better to put her on the lead, and it worked out well."
The Muscle Mass filly moved over $100,000 in earnings for Bossence and co-owners Daniel Culp (Moorefield, ON) and William J Pendleton (Kenilworth, ON).
She crossed the wire in 1:58.4 and paid for $ 2.70 for the win.
Fillies closed out the OSS action in race eight, and Sweet Detrmination emerged victorious. Driver Doug McNair had his Lookslikeachpndale filly ready to go and she led from start to finish in a time of 1:58.0.
Ancaster, ON resident Patrick Laing trains and co-owns Sweet Determination with Dewitt Stables (Little Britain ON).
Full Results from September 4 at Flamboro Downs
-30-
MEDIA INQUIRIES 
Austin Stanton
astanton@ontarioracing.com 
OSS PROGRAM INQUIRIES 
Christina Gillis
cgillis@ontarioracing.com
Follow the OSS Program on Twitter and Facebook