National Caretaker Appreciation Week
From August 29 until September 4 we are celebrating National Caretakers Appreciation Week!
Caretakers work behind the scenes to care for the horses and do so much in the horse racing industry. On Wednesday, August 31 Grand River Raceway will be spoiling the caretakers and giving them small tokens of appreciation to say thank you!
It's a special day at Grand River Raceway, so join us to celebrate the caretakers starting at 6.30 pm!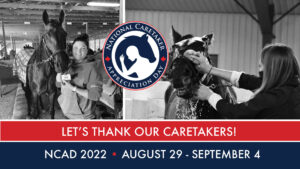 Grand River Raceway
Wednesday, August 31
Post time: 6.30 pm
Standardbred Canada has more information on the week of celebrations here:
https://standardbredcanada.ca/category/news/national-caretaker-appreciation-day