Gus is The 2023 Wiener Dog Champion at Grand River Raceway!
Gus, the 4-year-old miniature dachshund, raced to the finish line taking home the grand prize of Grand River Raceway 2023 Wiener Dog Champion once again Friday, July 14. The event was sponsored by Ren's Pets!
Gus's bio says he loves short walks (not on the beach) and sleeping under covers. Clearly, he was well-rested and ready to win the title of Wiener Dog Champion for the second time.
Gus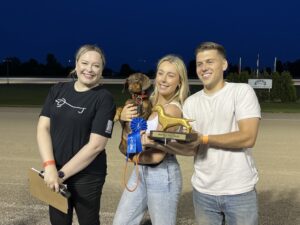 Twenty-eight daschunds of varying breeds and ages, paws-itively delighted the over 3,000 fans as they scurried towards, or away, from the finish line. Some pups crossed the finish line and others decided to take a different route!
The finalists earned their spots in the championship by finishing in the top three of three elimination heats. There was fierce competition between returning pros, past champions, and new competitors this year.
In this race, the "Wiener" takes it all, but other su-paw-stars are the second and third-place finishers! Second place went to Chico Philip (returning competitor), and third place went to Mabel (also a returning competitor). In the end, all the pups were wagging their tails and having a ball.
2. Chico Philip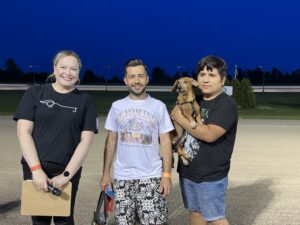 3. Mabel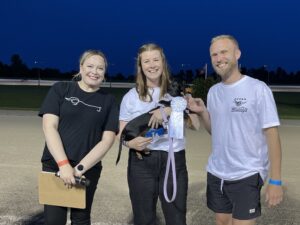 The event included a "Top Dog" meal special featuring a footlong hotdog, Ren's Pets had a booth for guests to take home a treat to a furry friend, GRR sold exclusive wiener dog t-shirts, Dixon's Distillery served beverages on The GrandWay Patio, three food trucks stopped by – MegaCone Creamery, Berlin 95, and The Serial Griller, and lastly Tianna Brown was the dazzling emcee for the evening!
The Wiener Dog Race Night is GRR's most-attended event of the year! Follow GRR on Social or sign-up for emails at grandriverraceway.com. GRR's harness racing season is from June to September most Monday, Wednesday, and Friday nights. See GRR schedule here.
Photo: Gus and his family.