Giddy joins GRAS
Grand River Agricultural Society is Growing 
ELORA, ON — The Grand River Agricultural Society (GRAS) is pleased to announce that Katie Giddy is joining their leadership team as Director of Hospitality, Sales and Marketing.
Effective April, Katie will be leading the charge in the recently announced $6 million events and banquet space. The expansion is in addition to the improvements made to the raceway building, which is home to Elements Casino Grand River.
"This is an amazing opportunity to provide these very much needed facilities in Centre Wellington, the community I also call home" says Giddy, former Chief Growth Officer at RLB Chartered Professional Accountants.
As owners of the Grand River Raceway, GRAS is a not-for-profit entity whose vision is to be recognized as a leading destination for unique agricultural, environmental, and entertainment experiences.
"Katie's connection to the agriculture industry and local community, coupled with her background in finance and leading organizations through growth, make her an incredible asset to the GRAS team," said Paul Walker, President.
In addition to overseeing the launch of the new space, Katie will be working closely with the Board to execute their revised strategic plan, increasing access to grants and seed funding for innovative ideas in the agriculture and food space, and building stronger, more collaborative community relations.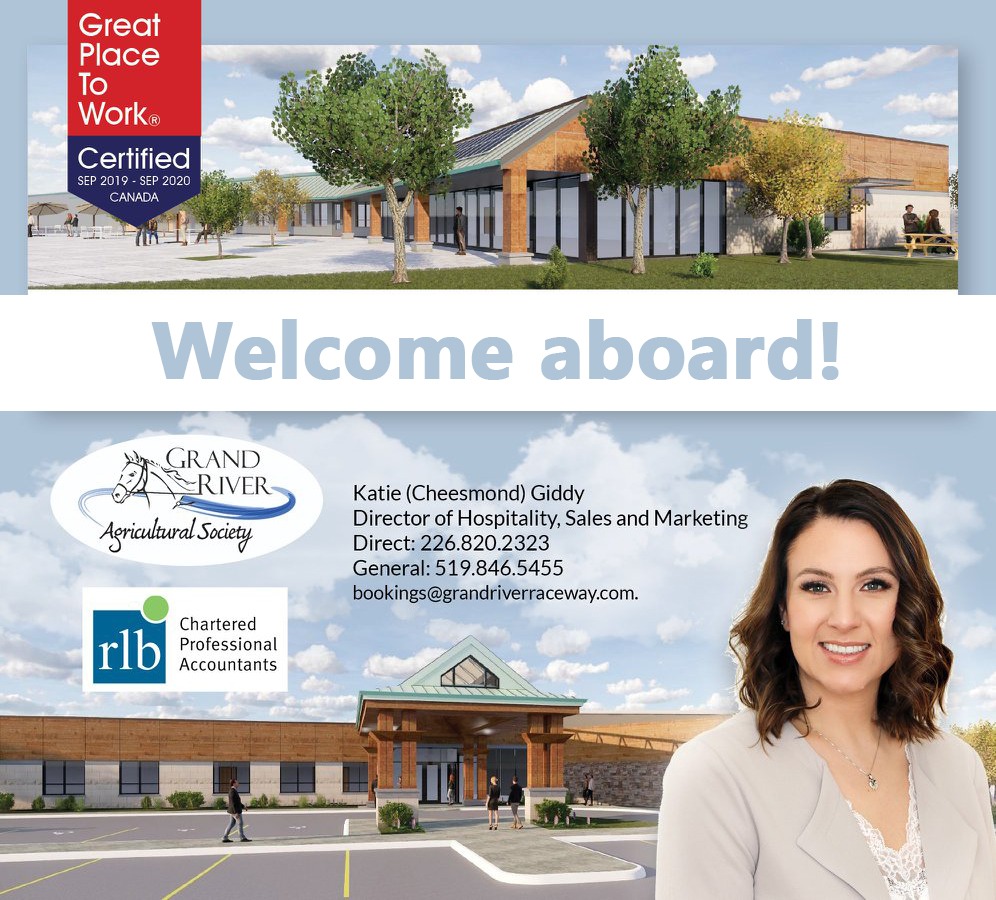 Katie grew up on a dairy farm in the United Kingdom and moved to Centre Wellington 17 years ago. A graduate of the University of Guelph Bachelor of Commerce in Agriculture Business program Katie was one of the first recipients of a Grand River Agricultural Society Scholarship.
This is certainly a bittersweet move for Giddy as she leaves behind her colleagues at RLB. As auditors of GRAS for many years, both organizations have taken a collaborative approach to her transition.
"Katie's passion and enthusiasm for our people, our business and our community have resulted in incredible success over the past five years," said Bill Koornstra, Managing Partner at RLB. "Although we are very sad to see her go, we look forward to maintaining a strong working relationship as the vision for GRAS grows."
The new events space will be open to the community in June 2020, offering event and banquet space accommodating up to 300 people for weddings and community and corporate functions.
-30-
FFI: Contact Jamie Martin jmartin@grandriverraceway.com (519) 846-5455 x399